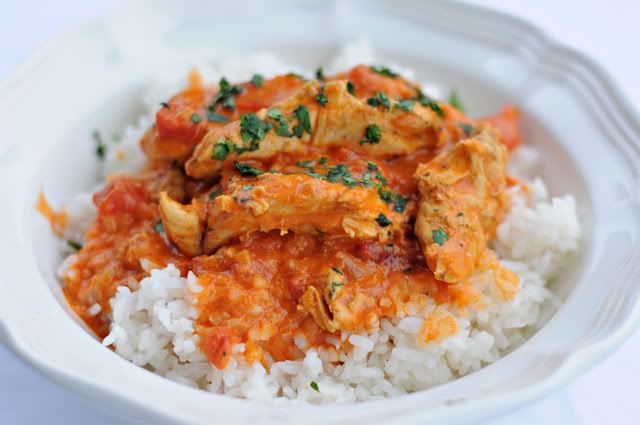 I love Indian food, but have always been a little afraid to try it. I came across this recipe here and thought it looked pretty easy. The only spice I didn't already have was Garam Masala, and the recipe said if you don't have it, leave it out. But I went and bought it anyway! The dish was very good, but next time I will cut down on the cayenne pepper. Ty thought it was perfect, but I thought it was a bit too spicy. If you like Indian food, you should try this!
Butter Chicken
print this recipe
8 pieces boneless, skinless chicken breasts
5 cloves garlic, minced
1 tsp. salt
1 tsp. black pepper
1 tsp. cayenne pepper (I will try 1/2 tsp. next time)
1/2 tsp. ground coriander
1/2 tsp. cumin
1/2 tsp. cardamom
1/2 tsp. garam masala
1 whole lime, juiced
2 Tbsp. olive oil
1 onion, diced
1/4 cups butter
1 can (14.5 oz) tomato sauce
1 can (14.5 oz) petite diced tomatoes
1/4 cup sugar
1 cup whipping cream
1 bunch chopped cilantro, to taste
cooked rice (any kind you like but I recommend basmati rice)
Combine first 11 ingredients in a large ziploc bag, squish around until everything is even and marinate overnight.
Saute the onion in butter until soft. Add marinated chicken and cook about 10 minutes. Add the tomato sauce, diced tomatoes and sugar. Cook for 30 minutes over medium-low heat with the lid on. Add the whipping cream (I've read you can use yogurt or half and half too) and cilantro just before serving over rice.