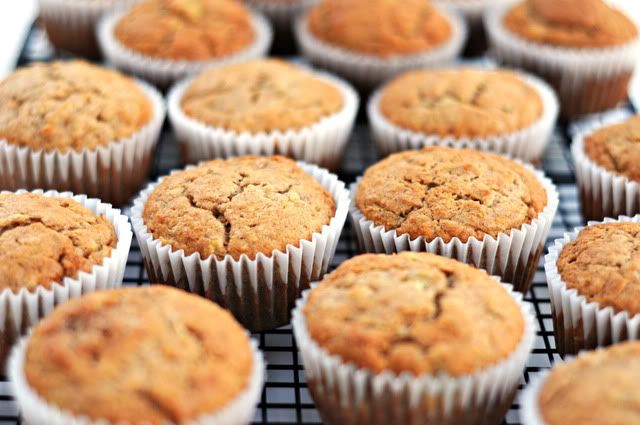 Everyone has their favorite banana bread recipe, and here is mine. I got it from my sister YEARS ago, and it is the one I always turn to when I have super ripe bananas. It is somewhat "healthy" (at least I like to think so) because of the whole wheat flour and yogurt in it (just ignore the butter!). I like to make them into muffins because of the easy portion control!
Banana Bread
print this page
1/2 cup butter
3/4 cup brown sugar
1 egg
1 cup whole wheat flour
1/2 cup white flour
1 tsp. baking soda
1/4 tsp. cinnamon
3 mashed bananas
1/4 cup plain non-fat yogurt (I substitute fruit flavored yogurt if it is what I have in my fridge!)
Cream butter and sugar. Add egg. In separate bowl, combine mashed bananas and yogurt. Add banana mixture alternately with the dry ingredients to the butter/sugar mixture, stirring until just combined. Pour into bread pan. Bake at 350 for 45 minutes. Cool 15 minutes before removing from pan.
note: bake 18-22 minutes for small muffins. Check doneness with a toothpick.