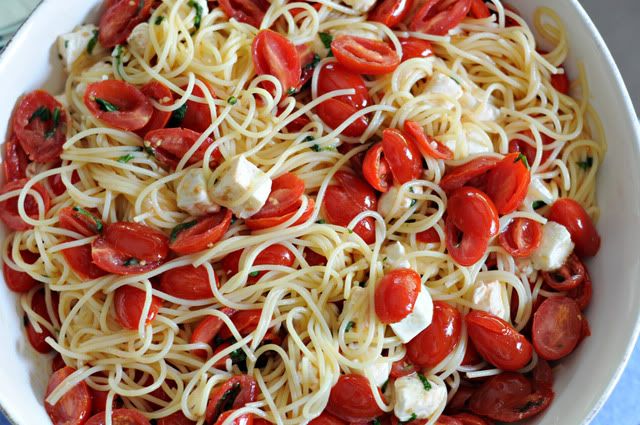 I made this dish for lunch today for my mom and my sisters--yummy! This pasta is perfect for summer with the fresh tomatoes and basil. The mozzarella slightly melts from the warmth of the pasta when you mix it together. It is heavenly!!!
Caputo's Summertime Pasta
print this recipe
5 large tomatoes, stems removed, cut into large dice
2 cloves garlic, minced
8 leaves fresh basil, coarsely chopped
salt and pepper to taste
1 1/2 cups extra virgin olive oil
6 oz. fresh mozzarella, cut into small dice
1 lb. pasta
In a medium non-reactive bowl combine the tomatoes, garlic, basil, salt and pepper. Add enough olive oil to cover tomato mixture. Marinate at room temperature for at least 1 hour, preferably 2 or 3. Drain the mozzarella and allow to come to room temperature.
Cook the pasta and drain. Add the tomato mixture and mix well. Toss in the mozzarella, mix well and serve.
(notes: I substituted plum tomatoes (and I used way too many as you can tell by the picture!), I used about twice as much basil as on the recipe, I used about a cup of olive oil, I used about 8 oz. fresh mozzarella, and I used thin spaghetti--so much for paying attention to the quantities!)