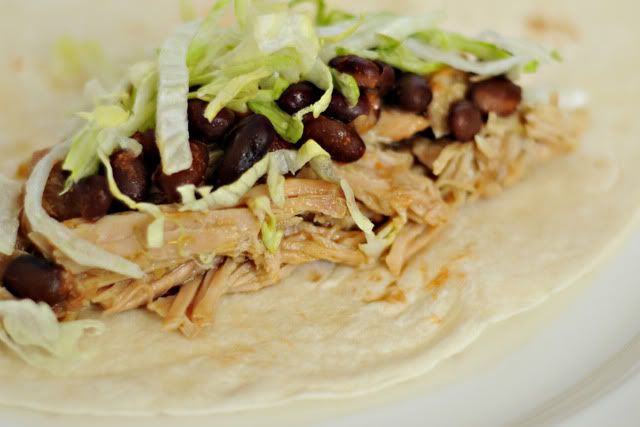 The pork taco recipe came from a cookbook that I haved called Bliss. It is a nice variation from regular tacos! The beans recipe I found online somewhere--sorry I can't remember where. It's a simple way to give a can of black beans a little extra flavor!
print this recipe
Sweet Pork Tacos
4-5 pound pork roast
2 cloves garlic, crushed
1 Tbsp. salt
1 can green chili enchilada sauce (I used the big can)
1 cup brown sugar
Place pork roast in a crock pot and sprinkle with crushed garlic and salt. Cook on high (I did mine on low) for 6-8 hours, or until the roast easily pulls apart. Remove roast from crockpot, drain juices, and shred. Place back into the crock pot.
In a bowl, combine the green chili enchilada sauce and the brown sugar. Pour over the shredded meat and stir to combine. Cook on high for one hour or low for 3 hours.
Serve with corn or flour tortillas, shredded lettuce, black beans, shredded cheese, tomatoes, sour cream and guacamole.
Black Beans
2 Tbsp. olive oil
1-2 cloves garlic, minced
1 tsp. ground cumin
1 can black beans, rinsed and drained
1 1/3 cup tomato juice
1/2 tsp. salt (to taste)
2 Tbsp. fresh chopped cilantro
In a nonstick skillet, cook garlic and cumin in olive oil over medium heat until you can smell it. Add beans, tomato juice, and salt. Continually stir until heated through. Just before serving stir in the cilantro. Serve with slotted spoon!
(note: I didn't have any tomato juice so I put in tomato sauce with quite a bit of hot water to water it down.)