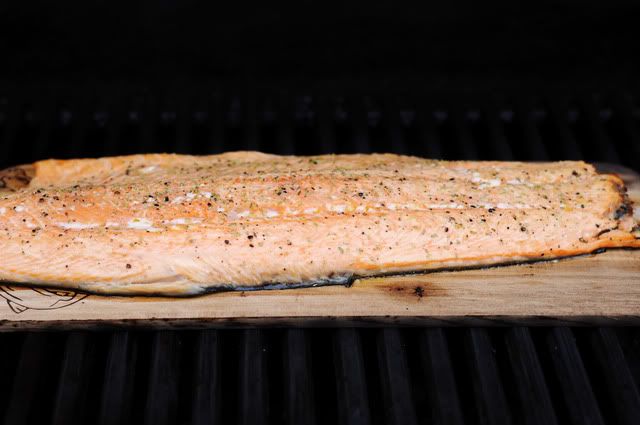 (this picture does not do justice to how good this salmon is!!)
This salmon is to die for, the best salmon I have ever eaten in my life, hands-down! It is so easy too! I love those kinds of recipes. Cooking the salmon on the cedar plank gives it a sweet-smoky flavor and the fish stays so moist it literally melts in your mouth! I bought my cedar planks at Costco--they have sold them for the last couple of summers, but I haven't seen them yet this season. Maybe I haven't looked hard enough though. They usually show up when all of their barbeque things come out.
The original recipe came from a Sur La Table catalog from a couple of years ago.
Cedar-Plank Grilled Salmon
print this recipe
1 untreated cedar plank, measuring about 15 by 7 by 3/8 inches

1 whole side of salmon (about 3 pounds), skin on and scaled (I like to use the salmon filets from Costco that don't have skin--not the fozen individual ones but the "fresh" ones in their meat section)

olive oil for brushing

kosher or sea salt

freshly gound pepper

leaves from 4 sprigs fresh thyme

leaves from 4 sprigs fresh rosemary

juice of 1/2 lemon
Rinse cedar plank and soak it in water for a minimum of 20 minutes and up to 2 hours. I use my kitchen sink and put a glass or something on it so it stays under water.
Preheat gas grill to medium heat.
Place salmon on a cookie sheet (or plate or whatever). Rub the salmon with olive oil and sprinkle lightly with salt and pepper. Scatter the fresh herb leaves over the fish, pressing them lightly to help them adhere. Set aside. (if I don't have fresh herbs, I just sprinkle a little bit of dried rosemary on the fish with the salt and pepper. I've also had it with just salt and pepper and it is just as good! Use whatever seasoning you like.)
When ready to grill, place the soaked plank on the grill grate and close the lid. After a few minutes, the plank will begin to smoke and crackle. Turn the plank over and "toast" the other side for about 2 minutes. Uncover the grill and transfer the salmon directly onto the plank, then cover the grill. Cook salmon until it is almost opaque throughout, or when the internal temperature reads about 130-135 degrees. It should take about 15-25 minutes, depending on the thickness of the filet.
Keep a spray bottle with water nearby just in case the plank gets too hot and begins to flame. Extinguish the flame and continue grilling the salmon, adjusting the heat level of the grill if necessary.
When done, use tongs or heatproof gloves to remove the plank from the grill. I like to serve the salmon directly from the cedar plank. Sqeeze lemon over the salmon if desired (as much as I love lemon, I never use it with salmon. I like the taste of it without the lemon). ENJOY!