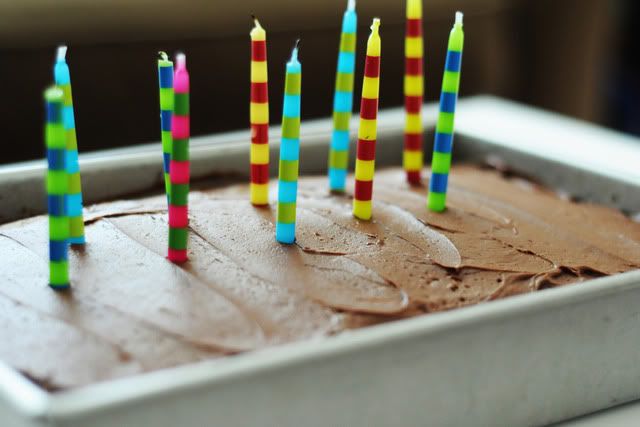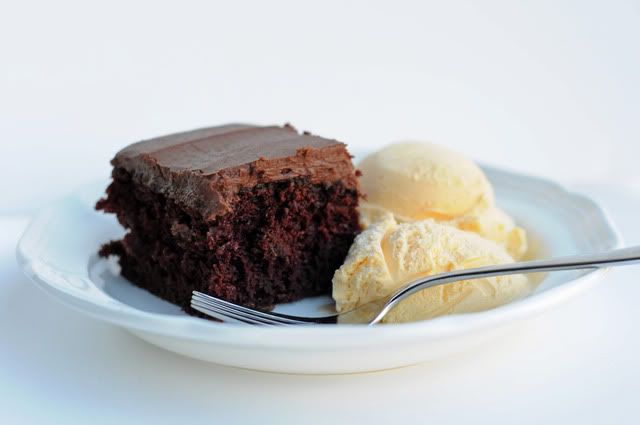 My mom makes the best chocolate cake ever. When I asked Jake what kind of cake he wanted for his birthday, he immediately said, "Grandma Hansen's chocolate cake!" I was happy to oblige because it is my favorite cake! It is the only kind of birthday cake I can ever remember having growing up, and she still makes me one for my birthday every year. Thanks Mom!
Chocolate Cake
print this recipe
1 Tbsp. vinegar
1 cup milk
1 square margarine or butter, softened
2 cups sugar
½ cup cocoa
2 eggs
½ tsp. salt
1 tsp. vanilla
2 ½ cups flour
2 tsp. baking soda
1 cup hot water
Add vinegar to milk, set aside. Cream together butter, sugar and cocoa. Add eggs, salt and vanilla. Add milk mixture and flour alternately. Put soda in water and add to mixture. Pour in 9x13 greased and floured pan. Bake at 375 degrees for 30-35 minutes. Frost when cool with favorite frosting or dust with powdered sugar.