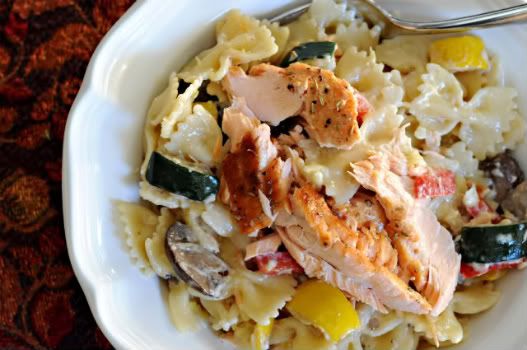 I had a very difficult time figuring out what to call this dish. Salmon Pasta, Creamy Pasta with Salmon, The Best Pasta Ever...nothing seemed quite right. And frankly, Pasta with Salmon and Veggies doesn't really sound right either, but it will just have to do.
The thing I love about this dish is that you can make it according to your liking. Don't like salmon? Use chicken or shrimp instead. Or don't use any meat at all. Don't like the veggies I used? Then use whatever veggie you like. I can't think of anything that wouldn't be good (well, maybe celery). Spinach, broccoli, fresh tomatoes, sun-dried tomatoes, carrots, cauliflower, arugala, toasted pine nuts, walnuts...seriously, the list is endless. Here's how I made it and you can adjust it however you want!
Pasta with Salmon and Veggies
print this recipe
1 lb. pasta (I used bow-tie)
2 Tbsp. (or so) olive oil--who measures this anyway?!
2-4 garlic cloves, minced
6 cups chopped vegetables (yellow squash, zucchini, red bell peppers, mushrooms)
1/2+ pint heavy cream (I didn't use the whole pint but I used more than half)
salt to taste (1/2-1 tsp.)
1/2 cup grated parmesan cheese
cedar-plank grilled salmon
Prepare pasta according to package directions, al dente.
Pour olive oil into pan over medium-high heat and add garlic. Stir just a minute or so until fragrant. Add veggies. Saute for a few minutes or more until they are as soft as you like them. Add cream and salt. Simmer about 5-10 minutes until slightly thickened. Add parmesan cheese and stir until melted. Add pasta to the sauce and mix well. Put in serving dish and add salmon to the top (I didn't stir in the salmon because it would break apart too easily. You could stir in the chicken or shrimp though). If you don't want to cedar-plank your salmon, you can bake it in the oven drizzed with olive oil, salt and pepper at 375 until it is done.
...or use chicken from a rotisserie chicken....
...you could also add some pesto for extra flavor if you happen to have some in your fridge...