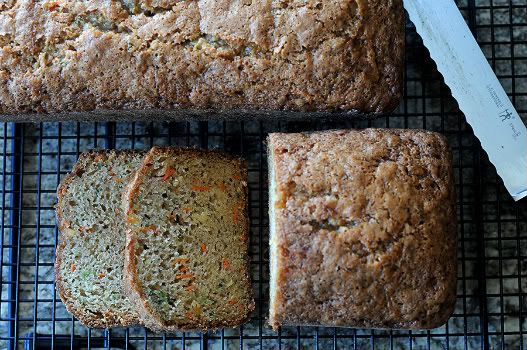 This isn't just any zucchini bread. The original name for this bread was "Pineapple Carrot Zucchini Bread", but that sounds a little too complicated to me. The pineapple keeps the bread moist and the carrots add a little extra nutrition (or so I like to think!). When the kids first saw it, they didn't really want to try it. They have an aversion to actually seeing vegetables in their bread. But after one bite, they all loved it! Oh..and I got this recipe 11 years ago on KSL TV. Enjoy!
Zucchini Bread (makes 2 large loaves)
print this recipe
3 eggs
1 cup vegetable oil (I only used 3/4 cup)
2 cups sugar
2 tsp. vanilla
2 cups grated zucchini
1 (8oz) can crushed pineapple, drained
3/4 cup grated carrot
3 cups flour
2 tsp. baking soda
1/2 tsp. baking powder
1 tsp. salt
1 1/2 tsp. cinnamon
3/4 tsp. nutmeg
Beat together eggs, oil, sugar and vanilla. Stir in grated zucchini, crushed pineapple, and grated carrot. In separate bowl, mix together remaining ingredients. Add to wet ingredients and stir until moistened.
Pour into greased and floured loaf pans and bake at 350 for 40-50 minutes or until a toothpick inserted comes out clean.