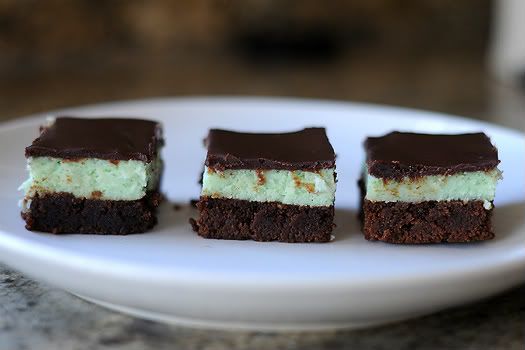 You can't really go wrong with chocolate mint brownies, can you? These brownies are a little different from your regular mint brownies. The green layer is NOT mint frosting, but rather a cream cheese layer that is actually baked. For those of you who love cream cheese brownies, you will love these! I got this recipe from the Taste of Home Baking Classics cookbook. Enjoy!
Fudgy Mint Squares

Brownie layer:
3 oz. unsweetened chocolate
Melt butter and chocolate in heavy saucepan on stove or in microwave (on 50% power, checking every 30 seconds or so). Cool slightly, In a small bowl, beat eggs, sugar and vanilla. Beat in chocolate mixture until blended. Gradually add in flour. Spread into greased 9x13 pan. Bake at 350 for 15-20 minutes or until top is set.
Mint Cream Cheese layer:
8 oz. cream cheese, softened
1 can (14 oz.) sweetened condensed milk
1 tsp. peppermint extract (try 1 1/2 or 2 tsp.)
4 drops green food coloring, optional
In a large bowl, beat cream cheese and butter until smooth. Add cornstarch; beat until smooth. Gradually beat in milk and egg. Beat in extract and food coloring if desired. Pour over cooked brownie layer. Bake at 350 for 15-20 minutes or until center is almost set. Cool on a wire rack.
Chocolate Ganache layer:
1 cup (6 oz.) semisweet chocolate chips
1/2 cup heavy whipping cream
In a small heavy saucepan, combine chocolate chips and cream. Cook and stir over medium heat until chips are melted. Cool for 30 minutes or until lukewarm, stirring occasionally. Pour over cream cheese layer. Chill for 2 hours or until set. Cut into bars. Store in the refrigerator. Makes 4 dozen.
note: I don't think 1 tsp. of mint extract was enough. Next time I make these I will try 1 1/2 or even 2 tsp. mint extract instead. The mint flavor was just a little too subtle!