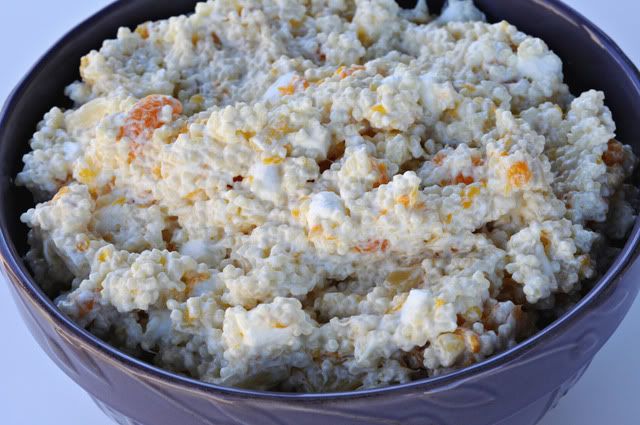 This is a great salad for a large gathering. It makes a ton and everyone loves it! The "frog-eyes" are pasta called acini di pepe. They are just little tiny things, and I love the texture that it gives to the salad. Enjoy!
Frog-eye Salad
print this recipe
1 cup white sugar
2 Tbsp. all-purpose flour
1 1/2 tsp. salt, divided
1 3/4 cups unsweetened pineapple juice (measure from drained juice from canned pineapple)
2 eggs, beaten
1 Tbsp. lemon juice
3 quarts water
1 Tbsp. vegetable oil
1 (16 oz.) pkg. acini di pepe pasta
3 (11 oz.) cans mandarin oranges, drained
2 (20 oz.) cans pineapple tidbits, drained
1 (20 oz.) can crushed pineapple, drained
1 (8 oz.) container frozen whipped topping, thawed
2 cups miniature marshmallows
In a saucepan, combine sugar, flour, 1/2 tsp. salt, pineapple juice and eggs. Stir and cook over medium heat until thickened. Remove from heat; add lemon juice and cool to room temperature.
Bring water to a boil. Add oil, 1 tsp. salt and pasta. Cook until al dente. Rinse under cold water and drain.
In a large bowl, combine the pasta, egg mixture, mandarin oranges, pineapple and whipped topping. Mix well and refrigerate overnight or until chilled. Before serving, add marshmallows. Toss and serve.