I got this recipe from my friend Julie. If you love fresh peaches, you will LOVE this dessert. It is not overly sweet which brings out the fresh flavor of the peaches. Now is the perfect time to make this because peaches are in season. I got my peaches from a local corner fruit stand because I wanted the best flavor, and it was totally worth it. Yummy! Thanks Julie for the awesome recipe!!!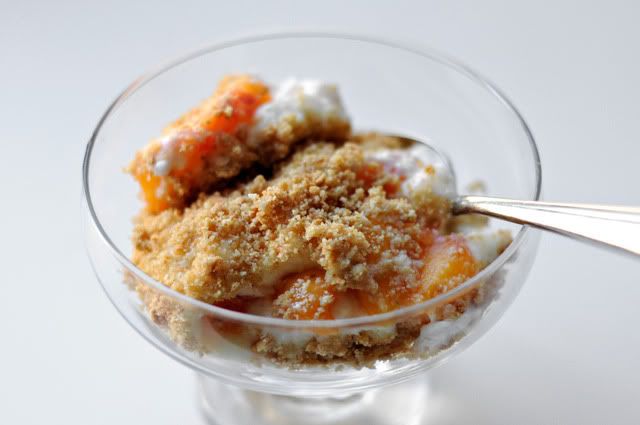 Fresh Peach Dessert
print this recipe
20 graham crackers, crushed
1 cube butter, melted
1/4 cup sugar
10+ ripe peaches (I used 12-13 peaches)
3/4 cup milk
12 oz. bag mini marshmallows
1 1/2 cup whipping cream
Combine crushed graham crackers, melted butter and sugar. Press half of the mixture into a 9x13 pan. Set aside remaining mixture for topping.
Combine milk and marshmallows in a saucepan, cook over medium heat until melted. Cool. Whip cream and fold into marshmallow mixture. Spread half on top of graham cracker crust.
Skin and slice peaches. Sprinkle with Fruit Fresh to keep from browning. Layer well-drained peaches on top of cream mixture. Spread remaining cream on top of peaches and top with reserved crumbs. Refrigerate.