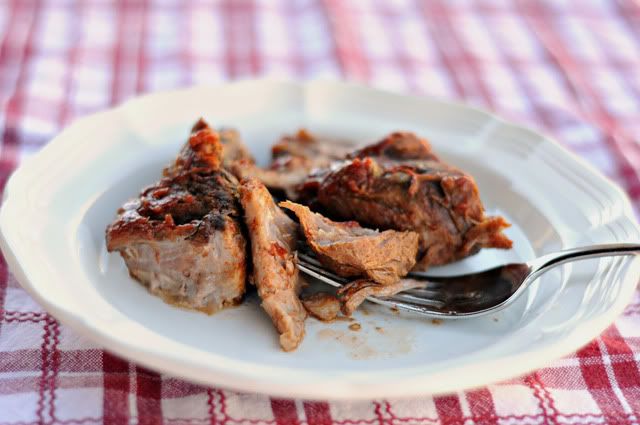 If you have never cooked boneless ribs before, you MUST try these. And if you have, you must try THESE!!!! I don't think I've ever tasted anything so good before. They were super moist and super tender, and you can cut through them with a fork like butter. I found the recipe on this blog
here
. I LOVE finding amazing recipes that I don't know how I ever lived without!
Boneless BBQ Ribs
print this recipe
6-8 pounds boneless country-style pork ribs
2 cups ketchup
1/4 cup oil
1/3 cup liquid smoke
1 Tbsp soy sauce
1 cup Pace Picante Sauce
1/2 cup brown sugar
3 cloves garlic, minced
Place ribs in a large roasting pan or two 9x13 pans. Mix sauce ingredients and pour half of the sauce over ribs. Cover pans tightly with foil and bake at 275 degrees for 6 hours. Remove ribs from drippings. Heat up other half of the sauce and serve over ribs.