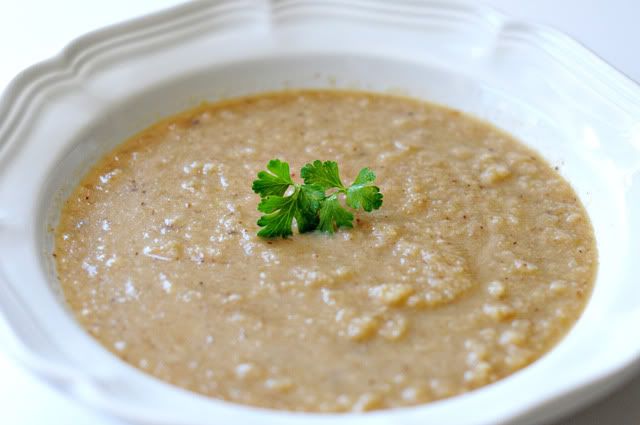 So I had a head of cauliflower in my fridge that I didn't know what to do with. The air is starting to get a bit chilled which tells me Fall is coming, which tells me it is soup season! I found this recipe at
Tasty Kitchen
, which is my favorite website to search for recipes with a certain ingredient in mind. This soup is yummy--I love roasted vegetables and it gives the soup a deeper flavor. It is very healthy too--notice there isn't any heavy cream! Of course you can add some and I'm sure it would make it taste even better! But I like the healthy version myself.
1 medium head cauliflower, roughly chopped
2 whole leeks, white and light green part only, cut in half lengthwise
6 cloves garlic (I only used 4)
2 cans (14 oz.) chicken broth
1 pinch fresh ground black pepper
Preheat oven to 425. Spread chopped cauliflower, leeks and garlic on a baking sheet. Drizzle olive oil on the vegetables and mix well to thoroughly coat. Sprinkle with kosher salt. Roast in the oven for 40-45 minutes. Vegetables should be brown on the edges and slightly softened.
Pour roasted vegetables into a saucepan and add the chicken broth and fresh ground pepper to taste. Bring to a simmer over medium-high heat. Using an immersion blender, thoroughly puree all contents of the saucepan. (If you don't have an immersion blender, you can use a regular blender. Just be careful putting hot liquids in a blender as they can cause the lid to come flying off!)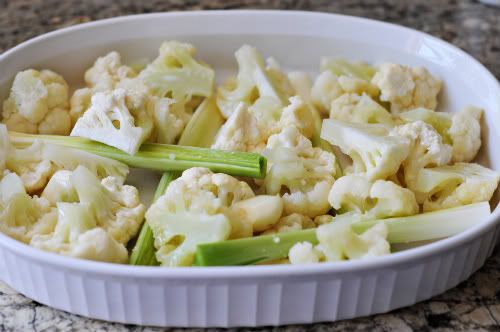 Here's my veggies right before I put them in the oven....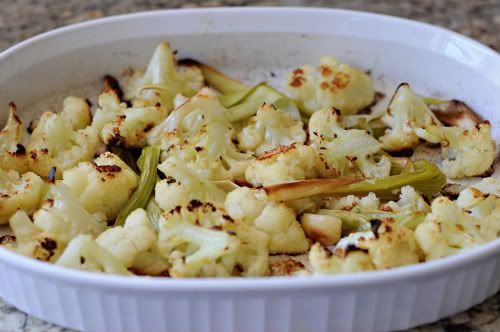 after they were roasted....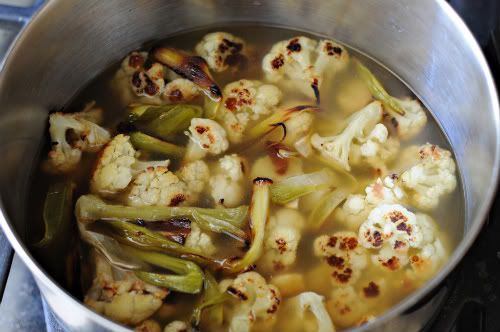 in the pan with the broth....