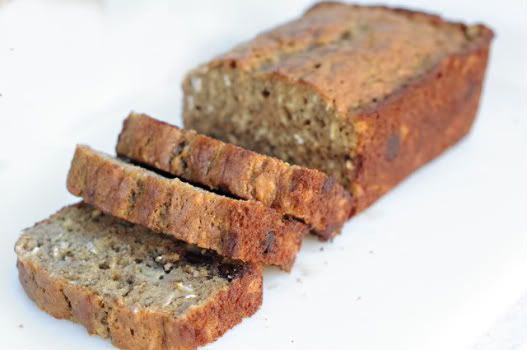 I found this recipe over at Tasty Kitchen. This bread was a winner at my house! The chocolate chips in the bread are just enough for me to get my chocolate fix in a somewhat healthy way. A perfect way to use up some ripe bananas. Enjoy!
Banana Chocolate Chip Oatmeal Bread
print this recipe
1 cup white flour
1 cup whole wheat flour
1 cup rolled oats
1/2 cup sugar
1/2 cup brown sugar
2 tsp. baking powder
1 tsp. baking soda
1 tsp. cinnamon
1/2 tsp. salt
1 1/2 cups buttermilk
2 whole eggs, slightly beaten
1/4 cup butter, melted
3 medium ripe bananas, mashed
3/4 cup semi-sweet chocolate chips
Preheat oven to 350. Spray two 9x5 bread pans with non-stick cooking spray.
In a large bowl, whisk together flours, oats, sugars, baking powder, baking soda, cinnamon and salt.
In a medium bowl, mix together buttermilk, eggs, butter and bananas. Pour into dry ingredients and mix until combined. Stir in chocolate chips.
Pour batter into prepared pans and bake 45-50 minutes until a toothpick inserted comes out clean.
(notes: If you don't have buttermilk, you can substitute 1 1/2 cups milk mixed with 1/2 Tbsp. vinegar. Also, you can make muffins with the batter. Small muffins cook for about 20 minutes. And next time I think I'll add 1 cup chocolate chips!).