There's nothing quite like chicken noodle soup when you're feeling under the weather. My picky eater actually requested this for dinner tonight--I had no idea she liked it that much! And she isn't even sick! I was more than happy to oblige, and I even had all the ingredients on hand. Even the parsnip! Go figure. Have you ever used a parsnip? It is a vegetable kind of in between a carrot and a potato. They are delicious in this soup!
This is my favorite chicken noodle soup recipe. It is so easy and yummy. It is so fast to make because you add the chicken to the soup raw and let it cook in the broth with the veggies. It saves a lot of time rather than cooking the chicken first. Of course, half the time I end up using a rotisserie chicken anyway! The recipe comes from Rachel Ray.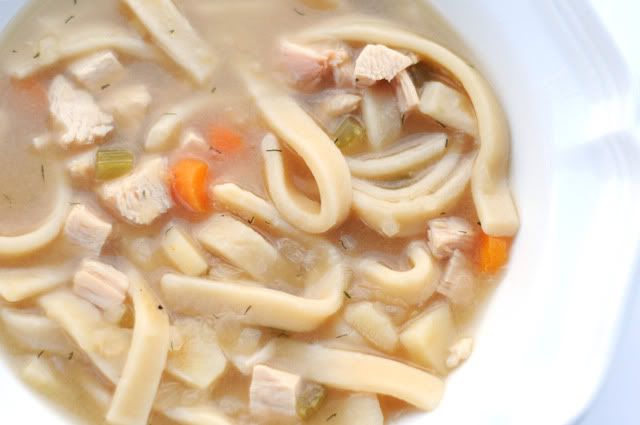 Quick Chick and Noodle Soup
print this recipe
2 Tbsp. (2 turns around the pan) extra-virgin olive oil
2 medium carrots, peeled and chopped
1 parsnip, peeled and chopped
1 medium onion, chopped
2 ribs celery, choped
2 bay leaves
salt and pepper
6 cups good quality chicken stock
1 pound chicken breast tenders, diced
1/2 pound wide egg noodles (I use Grandma's Egg Noodles--see below)
a handful of fresh parsley, chopped
a handful of fresh dill, chopped
(note: I don't use the fresh parsley or dill. Instead I add about 1/4 tsp. dried rosemary OR 1/4 tsp. dried dill)
Place a large pot over moderate heat and add extra-virgin olive oil. Work close to the stove and add vegetables to the pot as you chop, in the order they are listed.
Add bay leaves and season vegetables with salt and pepper (I wait until the end to do this, otherwise my soup ends up too salty). Add stock to the pot and raise heat to bring liquid to a boil. Add diced chicken tenderloins, return soup to a boil, and reduce heat back to moderate. Cook chicken 2 minutes and add noodles. Cook soup an additional 6 minutes or until noodles are tender and remove soup from the heat.
Stir in parsley and dill, remove bay leaves and serve. This is a thick soup. Add up to 2 cups of water if you like chicken soup with lots of broth.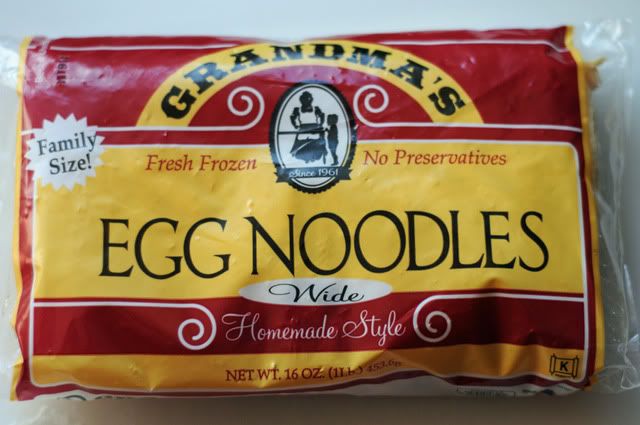 So, my sister-in-law introduced me to Grandma's Egg Noodles, found in the freezer section of your grocery store. These were next to the hash browns in my store. I used to make my own noodles from scratch, but these are just as good, and it saves me tons of time. I add the noodles (thawed) to the soup when it's boiling, and let them cook for 10 minutes or so. I usually have to add a couple of extra cups of broth as well to make sure there is enough liquid to cook the noodles.