I saw this recipe in January's Good Housekeeping magazine and wanted to try it! My first attempt was a disaster as I completely left out 2 ingredients. I had just folded in the egg whites when I realized I left out the melted butter and milk, and I couldn't very well add them in at that point. At least I figured out my mistake before I baked them. Even so, it was a little painful to dump all the batter down the sink. It was a month later that I finally tried again--and succeeded! These are yummy, and very lemony! I used regular lemons (as opposed to Meyer lemons which are less acidic) which made them a bit tart. Next time I think I will try the Meyer lemons to see which I like best.
Lemon Pudding Cakes
1/3 cup sugar
1/4 cup sugar, pluss additional for ramekins
1/4 cup all-purpose flour
1/4 tsp. salt
3 large Meyer or regular lemons
3 large eggs, separated
2 Tbsp. butter, melted and cooled
1 cup whole milk
raspberries for garnish
mint leavel for garnish
1. Preheat oven to 350 degrees F. Grease eight 4 to 5 ounce ramekins; sprinkle with sugar to coat bottoms and sides. Shake out any excess.
2. In small bowl, combine flour, 1/3 cup sugar and salt with a fork. From lemons, grate 1 1/2 Tbsp. peel and squeeze 1/2 cup juice. In large bowl, with wire whisk, beat egg yolks and lemon peel and juice. Whisk in butter and milk. Gradually whisk in flour mixture.
3. In another large bowl, with mixer on medium speed, beat egg whites until foamy. Gradually beat in remaining 1/4 cup sugar until soft peaks form when beaters are lifted, about 3 minutes.
4. Add one-third beaten whites to yolk mixture and, with rubber spatula, stir gently until incorporatd. Gently fold in remaining whites until just incorporated. With ladle, divide batter evenly among prepared ramekins. (approximately 1/2 cup batter in each ramekin)
5. Arrange ramekins 1 inch apart in large (17-inch by 13-inch) roasting pan. Fill pan with enough hot water to come halfway up sides of ramekins. Carefully transfer pan to oven and bake 30-35 minutes or until cakes are golden brown and tops rise 1/2 inch above rims.
6. Cool cakes in pan on wire rack 5 minutes. With sturdy metal spatula, carefully remove ramekins from pan with water and transfer to wire rack to cool 15 minutes longer.
7. Run thin knife around edge of 1 ramekin. Place small serving plate on top of ramekin and invert plate and ramekin togeher; remove ramekin., Repeat with remaining ramekins. Garnish each cake ith a couple of raspberries and a mint leaf; serve warm.
(note: I only had 8 oz. ramekins, so that's what I used and they turned out just fine. They just didn't rise 1/2 inch above the rims when cooking! I would let the cakes sit as long as you need them to, I served mine at room temperature. The longer you let them sit, the easier they come out--or at least they come out looking prettier!)
This is what they look like before I put them in the oven...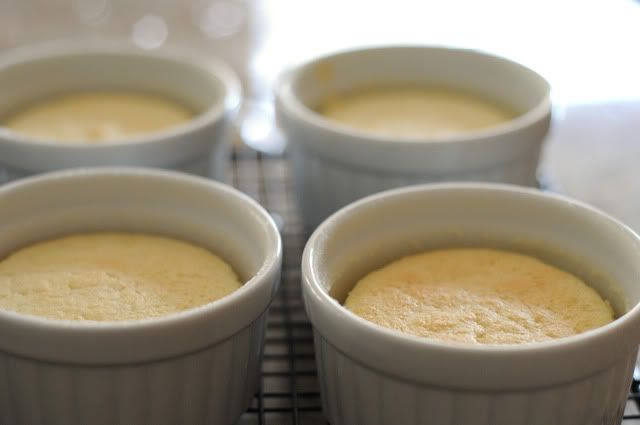 And this is what they looked like when they were cooling.