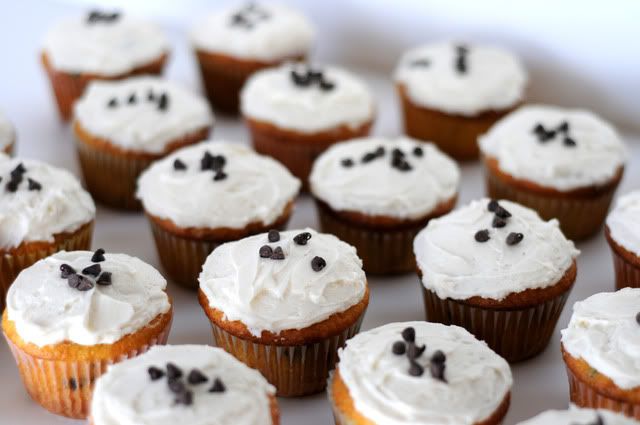 I'm seeing a pattern here with my recipes. I seem to gravitate towards the sweets, the baked goods. Maybe this will constitute the majority of my blog, but I really will try to include dinner-type stuff. Someday. I promise. In the meantime....
I had to make cupcakes for cub scouts, and I found this recipe in the Taste of Home Baking Classics cookbook. I picked it up from Costco, and I'm glad I did. These cupcakes were YUMMY. More substantial than just cupcakes from a cake mix--although, ironically, you start with a cakemix. If I'm going to bite into a cupcake, I want it to be more than just air. These deliver. I will definitely be making these again!
Chocolate Chip Cupcakes (makes about 2 dozen)
1 package (18-1/4 oz) yellow cake mix
1 package (3.4 oz) instant vanilla pudding mix
1 cup water
1/2 cup canola oil
4 eggs
1 cup miniature semisweet chocolate chips
In a large bowl, combine all ingredients except chocolate chips and beat on medium for 2 minutes. Stir in chocolate chips. Fill paper-lined muffin cups two-thirds full. Bake at 375 for 18-22 minutes or until a toothpick inserted near the center comes out clean. Cool for 10 minutes before removing to wireracks to cool completely. Frost cupcakes. Sprinkle with additional chips, if desired.
note: my oven tends to run hot, so I baked mine at 350 for 17 minutes. You don't want to overbake them!
Buttercream Frosting
1/2 cup butter
3 cups powdered sugar
about 1 tsp vanilla
milk
Beat the above ingredients and slowly pour milk until the frosting starts to stick to itself. I like thick frosting so I don't put in very much milk, and I never measure it!