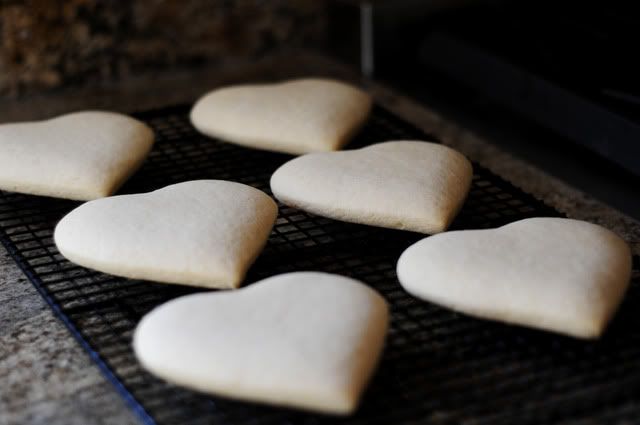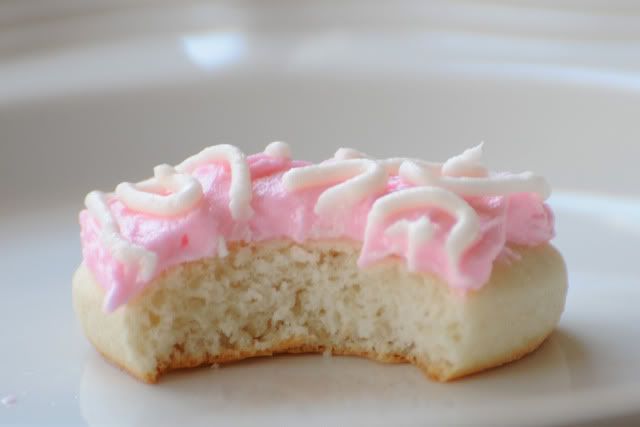 To me, Valentines Day is synonymous with sugar cookies. I came across this recipe the other day, and I think it is now my favorite! It was featured on Studio 5, a local news program. I love these cookies because they are soft and cakey, not chewy or crunchy. You know the pink frosting cookies you see in vending machines or at the grocery store? These remind me of them, but better, of course, because they are homemade and have none of those gross preservatives in them! The sour cream makes all the difference! Try them, you'll love them!
Best Ever Sugar Cookies
½ cup butter, softened
1 cup granulated sugar
½ cup sour cream
2 eggs
½ teaspoon vanilla
3 ½ cups flour
1 teaspoon baking powder
½ teaspoon baking soda
½ teaspoon salt
Beat together butter and sugar. Add sour cream, eggs, and vanilla; beat well. Stir in flour, baking powder, baking soda, and salt. Mix well. Cover and refrigerate at least one hour.
Pre-heat oven to 350 degrees.
Roll dough out on a lightly floured surface to 1/4 inch thickness. Dip cookie cutters in flour then cut dough into desired shapes. Place cookies 1-inch apart on un-greased cookie sheet. Bake for 8-10 minutes (cookie will be a very light tan on bottom - tops will still be pale). Remove to wire cooling rack. Frost when cooled.
Buttercream Frosting
1 cup butter, room temperature
5 cups powdered sugar
1/2 tsp salt
1 tsp. vanilla or almond extract
4-6 Tbsp. cream or milk
gel or paste food coloring (optional)
Beat together butter, sugar, salt, vanilla and 1/4 cup cream or milk. Add additional cream, 1-2 teaspoons at a time and continue to beat until frosting is smooth, creamy and is desired spreading consistency. Beat in food color, one drop at a time, as desired