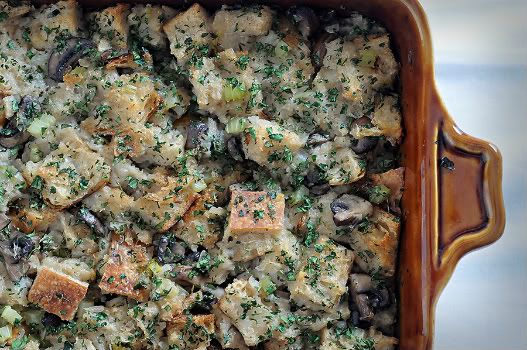 This is my FAVORITE stuffing recipe. It is very simple and has no weird ingredients. The secret that makes this stuffing the best I've ever had is the sourdough bread and the FRESH herbs. I can't wait to make it for Thanksgiving this year! You must try this recipe if your food assignment is the stuffing, and I guarantee everyone will LOVE it!
Sourdough Bread Stuffing
print this recipe
1 pound loaf sourdough bread
8 Tbsp. butter, divided
10 oz. baby bella mushrooms, sliced
salt and pepper
2-4 stalks celery, chopped
1 medium onion, chopped
10 sprigs fresh thyme, leaves stripped from the stems
10-12 fresh sage leaves, chopped
3 1/2 cups chicken broth
3 Tbsp. chopped Italian parsley leaves
Preheat oven to 350. Grease a 2-quart baking dish and set aside.
Cut or tear the bread into 1-inch cubes and spread it evenly on 2 baking sheets. Toast the bread in the oven until completely dry and beginning to crisp and brown, about 20 minutes. Transfer to a large mixing bowl.
Melt 2 Tbsp. butter in a large skillet over medium heat. Add the mushrooms and a few pinches of salt and saute, stirring occasionally, until golden brown, about 6-8 minutes. Add celery, onion, 2 Tbsp. butter and thyme. Once the butter has melted, cook until the vegetables have softened, stirring frequently, about 5 minutes. Add sage and remaining 4 Tbsp. butter. Add chicken broth to skillet and stir to combine. Season with salt and pepper to taste.
Pour the chicken broth mixture over the bread cubes and toss to combine until the bread cubes absorb the liquid. Pour the mixture into the greased baking dish, and sprinkle with parsley. Bake until heated through and the top is golden brown, about 40 minutes. Remove the stuffing from the oven and allow to cool about 15 minutes before serving.