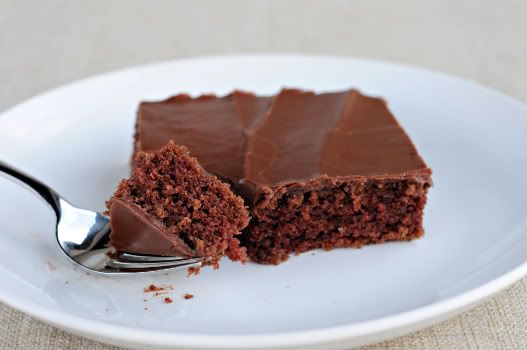 I don't know why I would ever need another recipe for a chocolate cake when I grew up with
this chocolate cake
every year for my birthday. But many years ago, a co-worker brought this chocolate sheet cake to work, and I HAD to get the recipe. This would be more like something I would take to a pot luck rather than make for a birthday. It has cinnamon in it which gives it a wonderful unique flavor. Please just ignore the fact that there are 3 cubes of butter in this recipe and enjoy it!
Chocolate Sheet Cake
print this recipe
Heat in saucepan:
1 cup butter
1 cup water
1/4 cup cocoa powder
Mix in large mixing bowl the above with:
2 cups all-purpose flour
2 cups sugar
1 tsp. baking soda
2 tsp. cinnamon
Blend well and add:
2 eggs
2 tsp. vanilla
1/2 cup buttermilk
Mix all ingredients until well blended and pour into a greased and floured Jelly Roll pan (cookie sheet with sides). Bake at 350 for 20-30 minutes--test for doneness. Remove from oven and cool on wire rack 15 minutes before frosting.
Frosting:
1/2 cup butter, melted
1/2 cup buttermilk
6 Tbsp. cocoa
2 tsp. vanilla
4 cups powdered sugar
Mix all ingredients together until smooth.