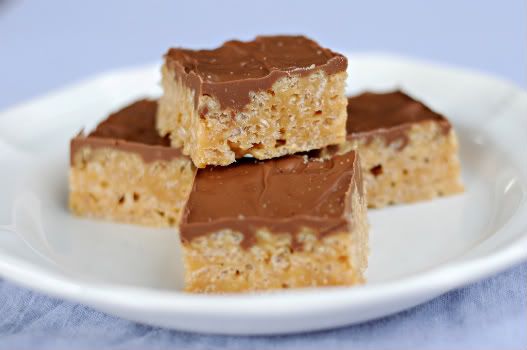 These are the most delicious little things ever, and so easy to make. This recipe came from a ward cookbook from many years ago. Some people call them "scotcharoos". They are perfect when I need to take a plate of cookies somewhere, but don't want to make a plate of cookies!
Peanut Butter Rice Krispie Treats
print this recipe
1 cup light Karo syrup
1 cup sugar
1 cup peanut butter
6 cups Rice Krispies
6 oz. milk chocolate chips
6 oz. butterscotch chips
In large pan, bring syrup and sugar to a boil. Remove from heat and stir in peanut butter until smooth. Fold in Rice Krispies until well mixed. Pat into a buttered 9x13 pan. Melt chips in microwave according to package directions. Spread over Krispies. Cool, cut into squares.