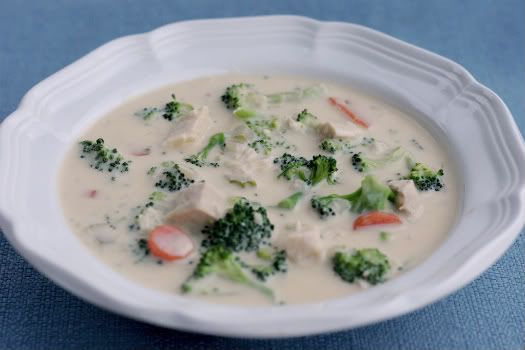 This was the first recipe that I "collected" when I first got married. Actually, I got this recipe before I was married. My friend's mom made this super delicious soup for my bridal shower, and I am so glad I bugged her for the recipe. It has been a favorite for years! It is especially good served in bread bowls, which is how it was served the first time I had it.
Broccoli Cheese Chicken Soup
print this recipe
3-4 carrots, sliced
3 stalks celery, sliced
1 onion, chopped
Cook together until tender.
4 breasts of chicken, cooked and cubed, save broth (or use a rotisserie chicken)
1 ½ pounds fresh broccoli or 2-10oz. pkgs frozen broccoli cooked for a minute or two
Melt ½ cup butter in large heavy pan. Stir in ¾ cup flour and cook together for a few minutes, constantly stirring. Add 1 pint Half and Half and 3 cups chicken broth. Stir with whisk over medium heat until slightly thickened (you can always add as much liquid as desired--I always end up adding more broth). Stir in 8 oz. jar of Cheese Whiz (or 16 oz. if you want it more cheesier) until melted. Add drained vegetables and chicken. Simmer 10-15 minutes. Salt and Pepper to taste.