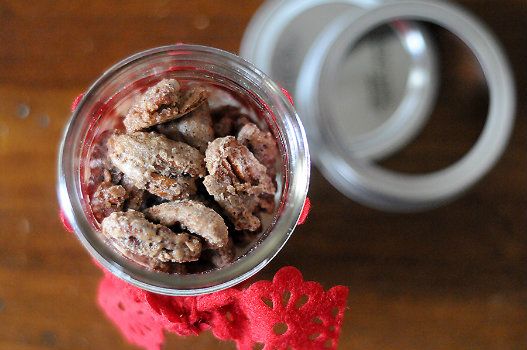 I have been on a search for the best recipe for candied pecans for a long long time (did you notice how many times I just used the word "for"?) They are my favorite thing to put into salads. I have found several recipes that are pretty good, but am always on the lookout for a better one.
I found this recipe on a blog called The Yummy Life and thought I would try them out. The result? Well, they are good enough to put on my blog! I like them because there is no added butter (my other favorite recipe calls for butter--aren't the sugar and the pecans themselves enough calories?) and they are super easy. It is hard to mess these up. I made a couple of batches and put them in jars for Christmas gifts.
A couple of side notes: the original recipe called for 1 1/2 tsp. salt, which tasted way too salty for me. I made the next batch with only 1/2 tsp. of salt which was perfect. Also, I did not add the cayenne pepper, but I think it would be yummy to add a little heat. Enjoy!
Sugar & Spice Candied Pecans
print recipe
1 large egg white
1/2 cup sugar
1/2 cup brown sugar
1 tsp. cinnamon
1/2 tsp. allspice
1/2 tsp. salt
1/8 tsp. cayenne (optional)
1 Tbsp. vanilla
1 Tbsp. water
4 cups (1 pound) raw pecan halves
Preheat oven to 300 degrees. Line a baking sheet with parchment paper (I used a silpat). In a large bowl, use electric mixer or shisk to beat the egg white until foamy (30-40 seconds with mixer). Add all the ingredients except pecans and mix until well combined (15-20 seconds with mixer). Stir in pecans until all are well coated. Pour onto baking sheet and spread out nuts into a single layer. Bake for a total of 40 minutes, removing the pan after 20 minutes and flipping nuts over with a spatula. Remove from oven and slide parchment paper with nuts still on it onto cooling rack. Cool completely, break apart, and transfer to airtight container. Store at room temperature.