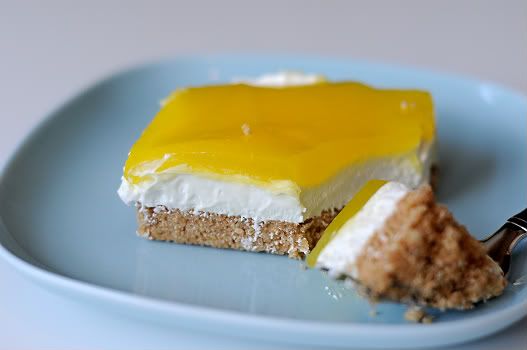 There is nothing gourmet about this recipe, but it is so good in its simpleness. It is hands down Reagan's favorite dessert. She is always asking me to make this. I got the recipe from my mother-in-law, but tweaked it just a tiny bit.
Lemon Pudding Dessert
print this recipe
crust:
2 c. graham cracker crumbs (2 pkg. minus 1 sheet)
1/2 c. butter, melted
1/2 c. sugar
Mix well and press into bottom of 9x13 pan.
filling:
12 oz. cream cheese, room temperature
3/4 c. powdered sugar
9 oz. Cool Whip
Blend together cream cheese and powdered sugar, fold in Cool Whip.
top:
2 sm. pkg. INSTANT lemon pudding, mixed according to package directions, following the pie instructions!
Spread over cream cheese layer. Chill several hours.